Pretty clear to me that the 'Intelligence' 'Community' (they are neither, their names for things are part of the lies) should not engage in meme wars with a population connected peer-to-peer via a communication systems that 'intelligence' 'community' cannot control completely. Their propaganda mechanisms, however perfect they are for a pre-Internet world, are failing even in societies far more top-down controlled than the US and the EU, e.g. China, NKorea. I believe I have linked to stories about how disk drives of internet information are smuggled across the border from China into NK, so even without actual electronic communication links, the world-wide-web has an effect on even the poorest, most repressive nations. That kind of repression can slow-down the decay of an NK's political system, speeding up the data links enormously speeds up the decay.
This is the end-game for this version of our lying bastards controlling so much of the political system, extracting $1T/year from the tax payers of the US and more from the EU via NATO and individual nation's in the 5-eyes, … umpteen-eyes intelligence-sharing 'communities', really shared political control systems :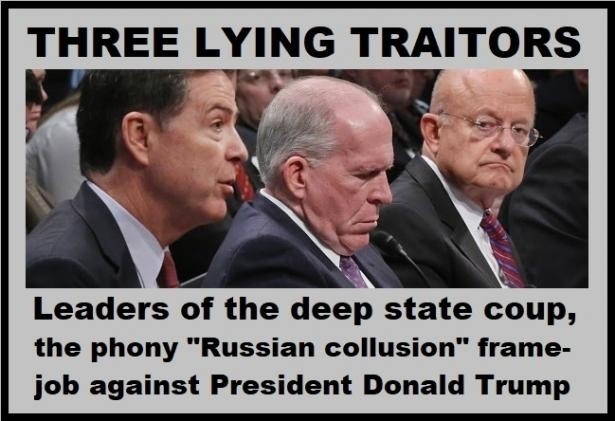 The thing that I find amazing is that NONE of the legacy media 'reporters' have metioned either Putin's offer, based on the treaty that exists between the US and Russia for exactly this reason, to cooperate with Mueller wrt the 12 GRU officers that Mueller has charged, nor his request of the US DOJ that they cooperate with Russia to investigate the $400M stolen from Russia that ended up in Hillary's campaign accounts. That includes, so far in the bits of Fox's Carlson and Hannity I have watched, Fox's people.
In my humble opinion, Putin's offer to assist Trump in cleaning up the US's corruption is by far the most significant thing to come out of the meeting, and one we citizens of the US should be embracing with whole-hearted fervor. It greatly decreases the probability we will need to use hole-hearted fervor in doing so!
Here are a couple of the alt-media accounts :
https://www.zerohedge.com/news/2018-07-16/putin-claims-us-intelligence-agents-funneled-400-million-clinton-campaign
https://www.thegatewaypundit.com/2018/07/putin-blows-apart-russia-collusion-probe-says-russian-group-gave-400000000-to-hillary-clinton-video/
https://www.zerohedge.com/news/2018-07-16/putin-claims-us-intelligence-agents-funneled-400-million-clinton-campaign
Trump Derangement Syndrome exists among some varieties of Conservative, also :
https://conservativedailypost.com/democrat-calls-for-military-folks-to-stop-president-trump/
Tucker Carlson is one of the reality-based journalists, along with Glen Greenwald, David Stockman and too-few others :
https://theintercept.com/2018/07/16/a-spirited-substantive-debate-on-the-trumpputin-summit-russia-and-us-politics/
http://www.targetliberty.com/2018/07/how-vlad-and-donald-show-got-gaskets.html?m=1
Hannity implements Murdoch's pro-Israel/Zionist and Israeli-Neocon biases. Hannity is usually willing to toe the line on anti-Russian lines of propaganda :
A different view of Trump's approach to life, one all of 'resistor' commentators presented above :
http://brucewilds.blogspot.com/2018/02/negotiating-skills-are-key-to.html
The 'intelligence' 'community' (it is neither) is such a farce with the "Russians did it all" BS. Intelligent people are starting to laugh at them. The end is coming for our Deep Black Swamp, including their spy 'masters'. 'Masters' who can't manage simple psyops any longer, they leave such a trail of evidence.
It isn't clear who this poor woman is working for, likely the CIA going for compromise information on everyone in the NRA. Whatever the reality, the comments are hilarious, or maybe I was just in a good mood :
https://www.zerohedge.com/news/2018-07-18/guns-sex-spycraft-court-filing-unveils-shocking-new-details-russian-spy-case
More on the Trump Derangement Syndrome infecting our elites :
https://www.zerohedge.com/news/2018-07-17/lunatic-politics-part-1-russiagate-religion
These are from Western Rifle, which I had not looked at  for a week or so. This line of thought has significant truths, no question, and WRSA repeats versions very frequently, mono-culturalism is the key to a sane society, in CA's view. 2 examples follow.
Nobody who has had experience with cultures other than their own can believe that 'all cultures are equal. That is certainly not to deny that all cultures have strengths and weaknesses relative to all of the others. If I want enduring family relationships, a mate who will help build those, current first-world cultures are not where I would begin looking. The foreign mothers who look down on us as potential marriage material are not wrong there. Carrying on ethnic/religious traditions, go Jewish, they are the current masters of that. Etc.
The problem I have is the constant 'genetic differences that make Europeans superior' nonsense. I have looked at the supposed scientific bases for differences in population genetics causing social differences, 'lousy science' is being generous. Further, none of these authors seems to have much grasp of their own cultures and the accidental advantages conveyed by our history, relative to other histories, nor accidents of geography, distribution of diseases, etc. (Jared Diamond does that analysis very well in 'Guns, Germs and Steel'.)
Pre-Christian pagan Europe was clan- and tribe-based. The entire world was, of course, we inherited that from our primate ancestors, the psychological and group traits fostering it were selected-for by the necessity of banding together for self-defense in ever-larger groups as the capabilities of attacks and invasions by ever-larger armed groups grew in the course of progress in producing food and weapons.
Europe had the happy advantage, once Christianized by the Catholic Church, of having had its clan and tribal structure eliminated by the Church's prohibition of cousin-marriages. That was a conscious decision by the Church's leaders to increase its power and to reduce strife in the societies they governed in concert with tribal leaders, which gradually morphed into national leaders.
Nothing genetic about it at all, it worked on everyone from the Celts through the Slavs and the Moslems and Hindus in protectorates such as Goa. I know Indians from Goa, for example, names like 'Michael', 'Abraham', etc. Their behavior in corporations is what you would expect from a fellow European, and the offspring of all the various peoples, when raised and educated in thoroughly mixed groups with any other peoples, assimilate perfectly. Really, the only people in the US who have not assimilated completely in a few generations are the Amish, Mennonites, Hutterites and a few such small religions. So far as I know, we haven't had any strife as a result of that.
Nevertheless, standard European-derived behavior is not something you can expect, a point I strongly agree with in these article's lines of thought, from citizens that grew up in most countries from the ME (not even Israelis, I think, tho my experience with them is much less, so I can't be sure). I have seen myself, and my friends have seen more, examples of companies being destroyed by ethnic fractions in engineering. Both mainland Chinese and dot-Indians are prone, given management positions, to running things by tribal politics, not engineering realities. A Chinese mafia is a real danger, and major technology corporations have been destroyed by Indians in management.
That is in no way genetics, and I have worked with many engineers from many different cultures. As fellow engineers, fine people, the normal range of talents, tho we got many of the best. As managers, I do not work for them if I can avoid it. But, to make my approach to these things clear, I don't work for anyone if I can help it, managers of all ethnicities are generally lousy engineers and it is a fight to keep them from fubaring even easy and straight-forward projects. Interesting projects have twists and setbacks, and are easily mangled.
The issue in all of this is power over people.  Prevent that, we can all get along. Allow that, and you will have proportionate problems.
That is the balance. I live in a multi-cultural society. I can throw a stone and hit the front door of homes of half a dozen different cultures. I can go to shops and restaurants and be served by women in hijabs, Sikhs in turbans (tho not so many, since 9/11 and the anti-Arab insanity the preceded the anti-Russian insanity now), Israelis, Russians, Indians, Chinese, Japanese, Koreans …, all within walking distance, and short drives to stores run by Armenains, Georgians, … I go to restaurants for lunch where I am the only European in a hundred Indians.
We get along fine, and the difference is these are all voluntary relationships, none of us have power over the others.
When we go out to restaurants, much more rarely now that we are in maximal saving mode because we have such a fear of the coming economic storm, it is normal to have a range of ethnic groups in the Thai, .. restaurant, so we all appreciate the benefits of this multi-cultural society. Friends go to concerts of all kinds, those are still less mixed, but the younger generations have gone to the same schools and colleges, are mixing, more and more, and it shows up in the couples we see around us. Indians have told us that, yes, while their children are not yet inter-marrying  with the wider culture, they are crossing lines within the Indian, Pakistani, etc. cultures that were previously socially unbreachable. They  expect the mixing to expand, despite the great prejudice that many Indian mothers have against Americans 'lousy marriage material', something I have heard professional Indian women say so myself. But, lots of ex-USSR mothers say the same, it isn't an uncommon view among people of independent views.
I strongly support stopping government-supported immigration. That is not at all the same as opposing immigrants or mixed societies.
Also, there are many multi-cultural societies that have persisted for long periods, peacefully, or at least not less peacefully than the mono-cultures around them. Just go look. When I have time to study more history, I will have to do that :
http://www.amerika.org/politics/who-are-our-friends/
https://theanatomicallycorrectbanana.com/home/2018/7/18/enlightened-free-loaders-and-the-pathological-altruists-who-love-them
But, otoh, a multi-cultural society can also be extremely anti-fragile, iff it has rational control systems and is careful about allowing power to be accumulated/exercised by one group over another. This discusses the general case, the outline of a nice presentation, also from WRSA, which very often has such bleeding-edge thinking :
https://www.dropbox.com/s/kdyyp89x6by4w6v/SR3.pptx?dl=0
I am a critic, can be equally critical of Zerohedge or NakedCapitalism, so this is not a general put-down of WRSA. I like many of the views on WRSA, and normally visit every few days, read and post links from them often.